---
If you'd like to find out more about our expert team here at Terence Barker, call 01440 712 905.
Leading the Way in
Fuel Storage for 50 Years!
---
---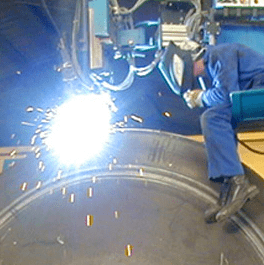 ---
We are a premier Bunded above ground fuel storage tank manufacturer based in Haverhill, Suffolk. We serve the commercial, industrial and domestic heating oil sectors throughout the UK, building a strong reputation for our high levels of quality and service. We've even had our products exported across the world to a large number of companies, industries and clients.
Operating from our extensive plant, we currently manufacture a wide range of fuel storage tanks and equipment including bunded diesel storage tanks, bunded waste oil tanks, heating oil tanks, domestic heating oil tanks and above ground fuel storage tanks. Everything we manufacture is made from steel or stainless steel to British Standards, SI 2954 and Oil storage regulations .
We're the preferred manufacturer for a broad range of international clients, ranging through industries as diverse as construction and demolition, transport, petrol forecourts and waste management. We're happy to design and construct bespoke tanks of any dimensions or capacity to solve your liquid or fuel storage problem - all cost effectively!
---
Our Current Range of
Products & Services Include:
---
---
Enclosed Bunded Fuel Storage Units constructed to current BS799 Part 5 Type J & K; OFTEC T200; PPG2 & SI 2954 The Control of Pollution (Oil Storage) Regulations 2001.
Above Ground Fuel Storage Tanks. The ConVault tank, reinforced concrete armoured fuel storage tanks suitable for petroleum based products built to UL2085.
Modular Fuel Station incorporating the ConVault Fuel Tank. Above ground petrol storage tank, designed for delivery and dispensing; gauging and failsafe shut-off systems; approved by the authorities and in use for Sainsbury's.
Vertical and Horizontal Cylindrical Storage Tanks for above or below ground use to BS EN 12285 – 1:2003 & 2:2005.
A complete range of Fuel Pumps for our equipment to suit most needs.
Maintenance Division to provide a full on-site servicing facility.
Installation, Decommissioning & Remedial Works available across the UK by OFTEC registered engineers.
Bunded Fuel Storage Hire Fleet. A wide range of bunded oil tanks for fuel storage. Distribution throughout the United Kingdom is available.
Sub-Contract work for our CAD/CAM machines such as the Plasma Cutter.
In-line with our policy of continuous improvement, we've successfully implemented ISO 9001 Quality Assurance System and are continually reviewing our products and our processes to ensure we offer our customers the best available product and service cost effectively across our full range of fuel tanks. If you have a liquid, powder, chemical, fuel or oil storage tank requirement, Terence Barker have more than likely manufactured a similar solution in the past, so call us today on 01440 712 905.

We take great care to ensure that all our tanks are manufactured to comply with the relevant legislation and industry body guidelines.
Barton Petroleum
---
I would like to take this opportunity to say we have had new tanks installed by your company at Barton petroleum, and must say they are looking good . Also I would like to say thank you all involved from Tristan, to the guys who built the tank and all the way to the painters. Grand job Most of all I would like to say a big thank you to Paul O'Brian and Adam Buxton for their excellent pipe work, they worked hard and long hours to make sure they finished on time. They were professional at all times. They are good ambassadors for your company. Sadly I was out of office when they finished so if you could be so kind to pass on my email to them and my thanks for all their hard work. Hopefully see them again on the next project Kind regards Cos Colapietro Depot Manager
Daniel Dennehy
Select Plant Hire Erith
---
This statement is to confirm the exceptional standard of works and customer service that we here at the Select Plant Hire Depot based at Erith Kent (Part of the Laing O'Rourke Group) have been privileged to have been on the receiving end of. The speedy and professional service and advice that we have received via both email and in person over the phone has been second to none in my opinion. With all works completed on time at the agreed price and to a more than satisfactory standard, with a workforce that works both safely and to its method statements and risk assessments, you cannot fail to be onto a winner when requesting any work to be completed by Terence Barker Tanks and in particular with Caroline and her team. I look forward very much to working with Caroline and her team in the future and I have no problem in strongly recommending them to any other individual or company and have indeed recommended them to others within the LOR group.
Alan Howard
Sainsburys
---
"The Convault facility we installed at Taunton performed very well. The expectation for this first installation was to retail approximately 40% of fuel sales during the rebuild period but in fact it achieved in excess of 70%, which relates to trading in excess of 300,000 litres of fuel per week – far more than some permanent petrol filling stations." Alan Howard, Sainsburys
Arriva North West
---
After talking to several well-known fuel tank manufacturers we selected Terence Barker Ltd to manufacture and supply our fuel systems. Quality and price were major factors influencing our decision, which was further reinforced by the excellent back-up and support from the office based team. The fuel storage tanks were bespoke units and were therefore manufactured to our specifications, they were on time, and required transport to be arranged to fit in with the operational constraints of large bus garages. I would recommend Terence Barker Ltd for any fuel storage tank projects. We are into double figures now and will certainly be using them again. Eddie Rogers, Asset Risk & Property Manager, Arriva North West & Wales.
Andrew Pritchett
Wessex Petroleum
---
Terence Barker have on several occasions supplied us with our storage tank requirements, the latest project was for our warehouse consisting of 9 bunded tanks holding over 400,000 litres of lubricating oil. They provided us with a complete service including planning, supply of all equipment and installation. Their professional approach has assisted enormously and we have no hesitation in recommending both service and the quality of tanks supplied. Andrew Pritchett, Wessex Petroleum